A trek passing through lush landscapes with small villages, through rain forest with muddy trails, bloodthirsty leeches and insects, up forested mountains to the 3600 meter high mountain Phongan Razi in Myanmar Himalaya. Being with hunters from the Rawang tribe we learned, how to manage in the forest without modern equipment. Friendly people, pristine nature and magnificent mountains – and no tourists: Myanmar Himalaya has a lot to offer. (2009)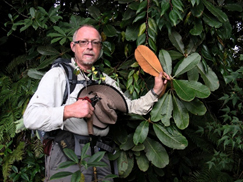 Bent launched a few expeditions to Myanmar Himalayas between 2009 and 2012. The outcome of his expeditions in Myanmar Himalayas was published in American Rhododendron Society Journal issue 126 in summer 2013.
I had arranged this trek for 3 friends and myself, with a Burmese tour operator I had found on the internet. They had a standard 11 day trek to Phongan Razi Mountain (3600 meter above sea level) on the Indian border. Together we changed the trek to 14 days giving us more time on the mountain itself.We arrived to Yangon airport the 4th of October 2009. Everything went OK: We got our net visa transferred to our passports, and our driver was waiting for us, and drove us to our hotel. The hotel was very good, situated by one of the great lakes in Yangon.
Next morning a representative for the tour company came to our hotel, and we got our domestic flight tickets, and she took a lot of photocopies of our passports and visas for the authorities in the Himalaya area.
Afterwards we had a day of sightseeing and saw the most famous pagodas of Yangon.
Trek day 1: The Adventure begins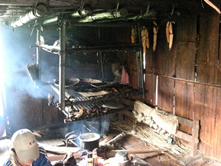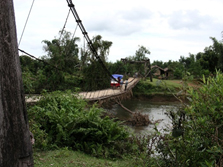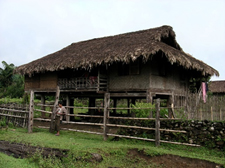 Early next morning we entered the plane for Putao, the most northern town in the state Kachin bordering India, Tibet, and China. Kachin is inhabited by many different ethnic group and only few ethnic Burmese. The Himalaya area main group is the Rawang ethnic group. Our guide and all porters were Rawangs.
We landed in Putao by midday. The city is situated on a plain by the river Malikha the western branch of the Irrawaddy River. The altitude is only 450 meters and the rainy season was not over yet so it was hot and humid. Our guide was also on the plane, so he took care of all formalities and delivered all the photocopies, and then we could get our luggage and drive to town.
After lunch we met our crew, porters and cook, 12 altogether. We had time to see the market while our men loaded 2 motorbike rickshaws which was going to take us and all the equipment to the last village which could be reached by road.
The local army commander, a colonel in a perfect uniform, arrived and had a longer discussion with our guide. The guide told us afterwards, the he had tried to force the guide to put us on the army hotel, when we came back. He did not succeed, and we got permission to leave after ½ hour. This was the only problem we had with authorities on our trip.
Off we went north on a bad unpaved road. We passed several minor bridges and a little bigger one on the road. Most of the times we had to walk over the bridges, because the driver feared that the bridge could not carry a full loaded motorbike rickshaw. All houses along the road were built on piles with bamboo walls and straw roofs.
We arrived at our destination the village Upper Shangaung late afternoon. We stayed in the priest's house next to a big church. The Rawangs are Protestants Christians since the English days.
We got a big room to stay in and our cook used the kitchen and cook on an open fire. This fire served many purposes, above were more layers of bamboo mats used for smoking and drying of meat, vegetables, rice etc. There are no chimney or hole in the roof, the smoke got out through the windows or through the roof.
The first two days on our trek was in inhabited area with small villages, and we could stay in local houses. As it was raining, it was nice to stay in a house and talk with the locals, it was very interesting to see how they live.
Day 2: A hard start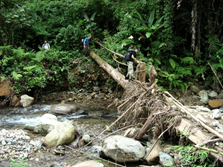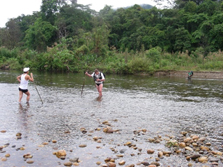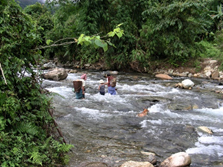 Today we crossed a 1400 meters high ridge and then walk a long way downhill, 12 miles altogether. It was quite tough partly because of the rain. The ridge was covered with dense rain subtropical forest and the track was steep, muddy and very slippery. The rain itself was not so bad, it was warm so there was no need for rain clothes, I got wet from inside anyway.
We had to wade some minor rivers, and cross others on primitive bridges or by step stones all extremely slippery.
There were a lot of bloodsucking thin leeches, on the grass and on leaves. You cannot keep them out so we all lost a bit of blood. Fortunately they are not dangerous, and their bite does not harm if you treat them with disinfectant.
We were very tired when we arrived at the next village, Wasandum, after 10 hours on the route.
Day 3: The last village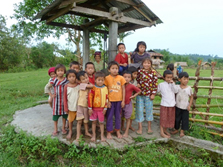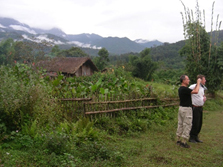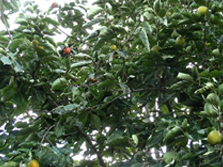 Next morning we continued north; it still rained. Just out of the village we had to wade across a bigger river, but the water was only up to our thighs and it was not cold, it was rainwater not melted ice! Then we followed the river, so it was easy walking.
The local people was very friendly, when we passed a house, the children came running out to greet us, and it was very easy to get good photos. No begging at all!
En route we met a man going to the market to sell fish. The fresh fish were kept in fresh banana shoots. This way they could stay fresh for two days, in spite of the heat.
Late afternoon we arrived at the last village Ziyadum, and got accommodated in a private house, and got refreshing fresh pomelo juice and persimmon fruits.
Day 4: In the rainforest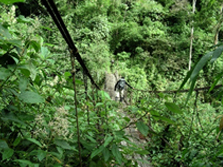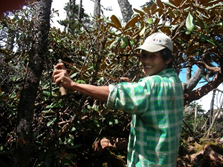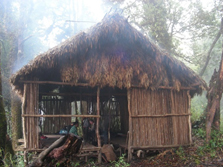 Next morning we left the village and the "civilization". The route was straight west against the mountain Phongan Razi and the Indian border.
In the outskirts of the village we met a man with fresh-caught fish, some sort of trout, and our guide bought fish for dinner. Now we started ascending on a ridge on a muddy trail in thick rainforest. There were still a lot of leeches. Our guide taught us how to handle them. You take a bunch of begonia leaves – begonia grow all over – squishes them and let the liquid drop onto the leech, it stops to bite you immediately and dies in a minute. There were also a lot of small biting insects, so we all had a lot of bites, and my fellow travellers got swollen hands and legs. Fortunately I am almost immune to insect bites.
The porters had slingshots and shot at all living creatures they saw. On the whole trek they got: 4 small birds, 1 tiny squirrel and a small rodent caught in a trap. All was eaten! They also carried a machete in a sheath of bamboo. Thus they could easily cut branches blocking the track. Machetes were besides used for many purposes, cutting firewood, making lines for drying clothes from rattan etc.
Late afternoon we arrived at our campsite. Here was a big hut, open in both ends. The porters had lit a fire, so it was nice to get shelter from the rain and have a nice cup of tea and to be able to dry clothes by the fire.
We were now at 1.800 m. so it was not so warm. Except the first miles we had been walking in indigenous wood, untouched by human beings.
Day 5: On the ridge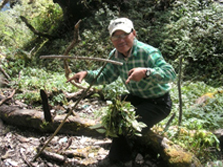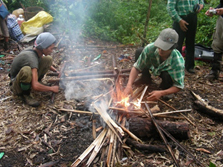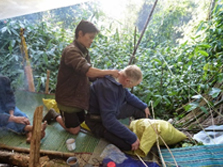 Next morning we could hear the gibbons calling down the mountainside. We continued up the ridge in dense forest. Rain started again, but we enjoyed our lunch in shelter under a suspended tarpaulin.
We were impressed to see the porters make a fire in a wood where everything was soaked. They split old bamboo branches lengthwise. They are dry on the inside and can burn even they are wet on the outside.
Our guide had an enormous knowledge about nature. He knew all plants and, if these could be eaten or not, and if they could be used as medicine. He was born and raised in a small village in the mountains, and had been a hunter until the age of 13 when he started school.
Two of our porters had attack of malaria. In camp they got traditional Rawang treatment, thorough massage of neck muscles, and rubbing of the back with the edge of a round tin.
Day 6: Camping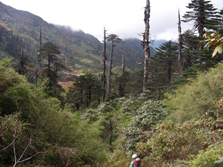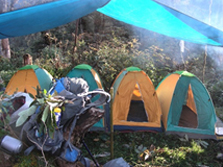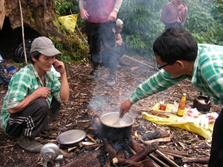 We were now at the altitude of 2500 meters, and next camp was at 3000 meters. Unfortunately we first had to descend quite a bit, so it became a tough day.
There was no hut at this camp, so we had to sleep in tents. The ground was covered with rhododendron branches, they were covered by a tarpaulin and on that we placed our small one man tents side by side. One great tarpaulin was suspended as a common roof/flysheet. A good solution when the space is limited, as it was on the ridge.
It was a cold evening, so we had dinner around the fire. Our guide had picked wild mushrooms, so we had a nice stew for dinner.
Day 7-8: Summit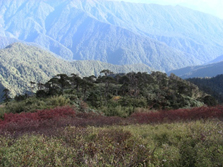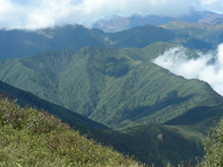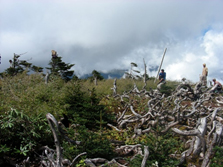 Next morning the sun was shining from a clear sky, good weather for the summit. Here at the altitude of 3000 meters, the forest was more open and as the trees got smaller we ascended. Just before the Phongan Razi summit we passed the wood limit. On the summit (the altitude of 3650 meters) grew small bamboos rhododendron and a couple of crippled pine trees. The view was fantastic with wooded mountains against east, south and west (India). Against north was a higher bare mountains ridge (Phongan Razi). We camped a bit below the summit at 3400 meters altitude.
Next morning the grass was covered with frost, but we had no frost inside the tents. It was sunshine again so we enjoyed a rest day. Some of us walked along a ridge with a beautiful view over India.
Day 9-13 – Back to civilization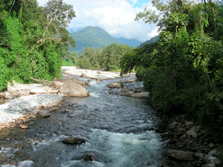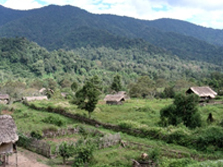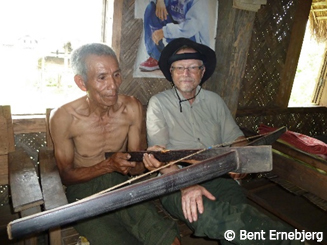 Next morning we started descending in brilliant sunshine, and we could enjoy the wonderful views when there was an opening in the wood. After 3 days easier walk on tracks that had already dried up we were back in Ziyadum. Here it was warm and it was nice to have a bath in the river. A local hunter had just shot a wild boar, probably with a cross bow, so we had delicious wild boar for dinner. We stayed with the same family as before and bought a nice
souvenir: Pepper from their peppertree in the garden. Back in Upper Shangaung the temperature was 31°C, and the sun was burning from a clear sky, it was hot to walk in these conditions.
We stayed again in the priest's house and had a party for our crew. We arranged a lottery with clothes and equipment we could spare as prizes. It was very strange for us that the Rawangs are totally without greed. They choose prizes they liked without thinking about the value of the prize, for example, small packets of dried raisins (which at once was shared) was taken before a good Swiss knife!
It was really sad to part with our crew. They had shown us so much about how to live (survive) in the wood, and I have never been before lived so close to the crew on a trek before.
It was an experience I shall never forget.
Facts
Best time for travelling is the dry season from November to May. Less rain, snow on the mountains and fewer leeches and other insects.
Thai Airways and Singapore Airlines flies to Myanmar via Bangkok/Singapore.
C&C Travel (www.cctravel.dk) arranged our travel to Yangon with Thai: Price ca. 10.000 kr. with hotel on arrival–and departure day.
14 days trekking including domestic flights from Yangon was 10.000 kr. pr. person tips and tourist fee (15US$ pr. day) included. Arranged by: Tai Star Travels, www.taistar-travels.com
Lonely Planet has a good guide for Myanmar published 2009, but there is only little information about the Himalaya-are– there are no tourists!