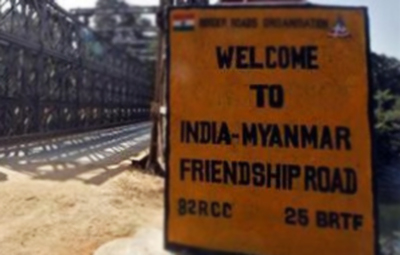 Myanmar – India
1 night 2 day (Mandalay – Tamu/ Moreh)
Day-1: Early monring departure from Mandalay to arrive in Kalay in late afternoon/ early evening. Overnight in Kalay.
Day-2: Kalay to Tamu/ Moreh border gate for exit into India. End of our service.
See below for service inclusions, exclusions and additional information.
Note:
This is the sample and the actual itinerary may vary. We deserve the right to change the itinerary at any time depending on the operation and local conditions, time of your preferred deparutre time, arrival at the borders, time taken for immigration and Custom clearance, refer to our Essential Information and F.A.Qs (link to relevant subpages).
Prices (US$) per person based on group size
| | | | | |
| --- | --- | --- | --- | --- |
| Route | 1 Guest | 2 Guests | 3 Guests | 4 Guests plus |
| Myanmar – India (Mandalay to Tamu/ Moreh) | | | | |
Contact us for a quote and your tailor made requirments. Please provide us your travel date, group size and as much information as you can to give you a precise quote.
Service includes
MTT permission
Licensed tour guide sent from Mandalay to assist you with immigration and custom clearance as per current MTT requirements
Service excludes
Transport between border and another destination as per your itinerary, we can assist you with arranging one.
Travel Insurance
Myanmar Visa Fees
Any other items not mentioned above
Transport options
Public transport express coach/ bus – leaves MuSe at 07:00hours (pick up time 06:00-07:00hours), arrives in Mandalay around 19:00 or 20:00hours.
Shared taxi usually leaves Mu Se around 07:00 hours (pick up time 06:00-07:00hours), arrives in Mandalay around 19:00 or 20:00hours.
If you arrive in Mu Se before noon, there are also shared taxi from Mu Se to Lashio and Mandalay which run on a first come first serve basis and will leave when all the seats are full.
Private transfer allow a much more flexible departure time. See our car hire services
There are flights between Lashio and Mandalay/ Yangon.
There are also train between Mandalay & Lashio.
Estimated driving time
Tamu to Kalay: 3-4 hours
Kalay to Monywa : 7-8 hours
Monywa to Mandalay: 3 – 4 hours
Tamu – Mandalay: 14 hours plus
---
Explore other Travel Ideas in Myanmar