Indawgyi Lake Wildlife Sanctuary
5 night 6 day Cultural, Nature & Eco Tour (Yangon/ Mandalay – Myitkyinar – Indawgyi Wildlife Sancturary – Myitkyinar/ Mandalay/ Yangon)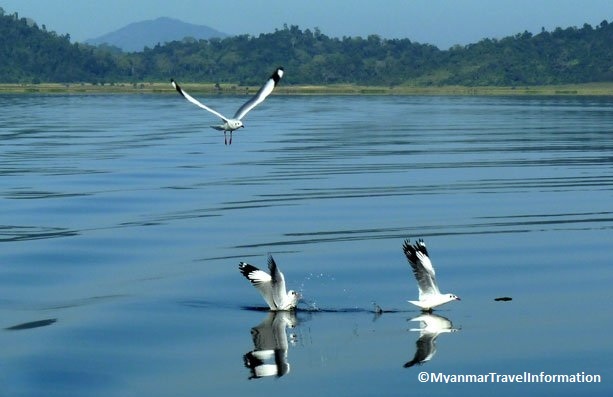 Day:1
Yangon/ Mandalay – Myitkyinar
Transfer to the airport for your flight to Myitkyinar, the capital of Kachin State in North of Myanmar. Transfer to your hotel in Myitkyinar. We will do an orientation tour around town. If time allows, visit to Thetkya Marazein Andawshin Pagoda (famous for it's glass mosaics), the Kachin-State-Mueseum (closed on Mondays and public holidays) and to enjoy the sun set from Tsu Taungpyae Zetidaw Pagoda located on the river bank. Overnight in Myitkyina.
Day:2
Myitkyinar – Myit Son – Myitkyinar
After the breakfast at the hotle, visit the local market in Myitkyina. Then proceed to Myit Sone on approximately 1 to 1.5 hour car journey. Myit Sone is the start of the Ayerwaddy River in the north, orginated from the confluecne of May Kha and Malikha rivers. On the way to Myit Sone, we drop by at U Byit Village to observe the local panning for gold by the Ayerwaddy River. On the way back to Myitkyinar, stop by at Prayer Mountain for a panoramic view of Myitkyinar and the surrounding mountains. Visit to Kachin villages near Myitkyinar. Overnight in Myitkyinar.
Day:3
Myitkyinar – Indawgyi Lake
After an early breakfast, start a 5 to 7 hour car journey to Indawgyi Lake. En route stop in Hopin, a small town, for a refreshment break at a local shop. Afterwards continue to Indawgyi Lake on a 2-3 hour car journey via a rough road. Overnight at a guesthouse in Lonton Village at Indawgyi Lake Wildlife Sancturary.
Day:4
Indawgyi Lake
After an breakfast, explore the breath-takingly beautiful Indawgyi Lake on a boat. Highliths include Shwe Myit Zu Pagoda, Chaung Wa village to observe different types of wetland birds, Nyaung Bin Village or other villages on the lake. You an also opt out to do other activities such as wild swiming, kayaking and cycling. Inn Chit Thu community tourism organisation based in Indawgyi Lake wildlife sanctuary offer many different outdoor activities you can choose from. Overnight at the guesthouse in Indawgyi Lake.
Day:5
Indawgyi Lake – Myitkyinar/ Mandalay
After an breakfast, drive back to Myitkyinar. Overnight in Myitkyinar.
Alternative, you can transfer to Hopin for an overnight train to Mandalay. Overnight on the train.
Day:6
Myitkyinar – Mandalay/ Yangon
Transfer to an aiport to catch the flight to Mandalay or Yangon.
If you took an overnight train on previous day, you will arrive in Mandalay sometime in the morning or early afternoon depending on the trian time.
Contact us your tailor made requirements, for instance, if you need for our assistance with booking for accommodations and Myanmar domestic flights or other pre and post tour travel extras.
Prices (US$) per person based on group size
Tours
1 Guest
2 Guests
3 – 4 Guests
5 – 7 Guests
8 – 10 Guests
Indawgyi Lake Wildlife Sancturary Cultural, Nature & Eco Tour

5 night 6 day (Yangon/ Mandalay – Myitkyinar – Indawgyi Wildlife Sancturary – Myitkyinar/ Mandalay/ Yangon)
Contact us for a quote and your tailor made requirments. Please provide us your travel date, group size and as much information as you can to give you a precise quote.
Services include:
Accommodation
Ground transfer and transportation as per itinerary
Sightseeing tour with entry fees at the destinations as per itinerary
Permission application and Royalty Fees where applicable
Services of English Speaking Guide throughout the trip
Local trekking guide in Banmauk
Services exclude:
Drinks & Beverages
Local trekking guide in Indawgyi
Personal expenses & gratitude, porter charges
Travel insurance
Domestic flights, International flights and airport taxes
Meals arrangement for during the trip (breakfasts, lunches, dinners)
Seasonal Supplements
Tipping for a job well done
Any other not mentioned in the service inclusion
Myitkyinar
Myitkyinar (144 meters above sea level) is the capital of Kachin State, located on the Ayerwaddy plain surrounded by high mountian rages. Local populations are mainly Kachin, Shan, Bamar (Burmese), Chin, Naga, Rawang and Lisu ethnic groups. The main attraction in Myitkyinar include Thetkya Marazein Andawshin Pagoda (famous for it's glass mosaics), the Kachin-State-Mueseum (closed on Mondays and public holidays) and the Tsu Taungpyae Zetidaw Pagoda located on the river bank. Myitsone is 45 kilometers north of Myitkyinar, is the start of the Ayeyerwaddy River originated from the confluence of May Kha and Malikha Rivers.
Inndawgyi Lake Wildlife Sancturary
Inndawgyi Lake (546 feet/ 166 m above the sea level), located in northern Myanmar is the biggest inland lake in Southeast Asia and the largest in Myanmar. It measures 13 kilometres (8.1 mi) east to west, and 24 kilometres (15 mi) north to south. There are more than 20 villages dotted in the surroundings of the lake and the predominant ethnic groups living there are the Shan (Tai) and Kachin (Jingphaw). Lake side villages include Lonton, Nyaungbin, Lwemun, Hepu, Hepa, Nammilaung (Cane Buddha Image, old teak monastery, interesting architecture with high wooden fences around all houses), Shwe Taung (for a scenic view of the lake, need to take either boat or motorbike), Ask InnChitThu for recommendation. One of the main attraction is the floating Shwe Myitzu Pagoda.
Indawgyi Lake is the main part of the Inndawgyi Wildlife Sanctuary, which was established in 1999 by the Ministry of Ecotourism. The sanctuary, which encompasses 780 square kilometer (300 square miles), contains a variety of animal species, including rare mammals and birds. Leopard, golden cat, the Malaya sun bear, gaur, banteng or wild cow, serow, goral, sport-billed pelican, vulture, other water birds, 120 species of forest birds Myanmar peacock and Soft-shell turtle are present. It is also one of Myanmar's important bird area and 10 endangered species can be found. Of these species, Greylag Geese, Oriental Darter and Purple Swamphen are prominent during the month of January. The lake and surrounding wetlands provide an important winter feeding habitat. Every year migratory birds from as far as Siberia follow the East Asian-Australasian flyway and flock to Indawgyi Lake to rest and feed during the winter season. A tour of the lake by motor canoe allows the viewing of a large array of wetland species.
Reaching to Indawgyi Lake is not easy. From Myitkyina it's almost a five-hour train ride to Hopin, followed by a two hour taxi trip, or a three- to six-hour shared pick-up truck ride, along a very bumpy road to Lonton village on the lake. For that reason, this is a place that has never seen many tourists.
Inndawgyi Lake claims to offer the most varied outdoor activities of any destination in Myanmar, such as cycling, kayaking, wild swimming, bird Watching, trekking, motorbike tours and boat tours around the lake and villages.
Below services are provided by Inn Chit Thu (Lovers of Indawgyi) Tourism Group, a community-based organisation run as a social enterprise, with profits set to be invested in environmental conservation and community projects. You can ask for a map of the area if you are going on your own. Price are for guidance only, and subject to changes by the provider.
Motorbikes – 10,000 Kyats for the day (fuel not included)
Kayaks – 15,000Kayts per day
Fishing trips – Price varies, may not operate at all time
Boat Tours – 50,000 – 60,000 Kyats for a full days river tour (boat can take up to 8 people) – the only way to cover the late in one day
Boat Taxi – price depends on the distance
Bird Watching – price varies depending on what you do
Bicycle rent – 8000 Kyats per day.
---
Indawgyi Lake Wildlife Sancturary & Myitkyinar Images