Loikaw & the long neck Padaung Hill Tribe
2 night 3 day Tour (Inle Lake – Samkar – Phekhone – Loikaw – Aung Ban – Heho – Yangon)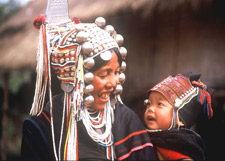 Day:1
Inle Lake – Samkar – Phekhone – Loikaw
Pick up at your hotel in Inle Lake. Boat journey from Inle Lake to Phekhone via Samkar. Lunch stop at Samkar old village and sightseeing the ruined Shan Stupas. Continued boat journey for another hour to Phekhone. Car journey (~1:15hours) from Phekhone to Loikaw, the capital of Kayah State. Overnight in Loikaw. (_/ L/ D)
Day:2
Loikaw
After breakfast, begin the sight seeing tours in Loikaw and surrounding Lishaw, Shan, Pa O and Kayah tribal villages. Packed lunch will be served at one of the villages. If permission is granted, we will visit to Panbe Village. Dinner and overnight in Loikaw. (B/ L/ D)
Day:3
Loikaw – Aung Ban – Heho – Yangon
Breakfast at the hotel. Five hour drive to Aung Ban, near Kalaw, for lunch break. Transfer to Heho airport to Yangon or other onward journey. Drop off at Kalaw is also possible. Upon arrival Yangon, transfer to Hotel. (B/ L/ _).
Alternate Route:
There are 2 -3 flights between Yangon and Loikaw by Myanmar Airway domestic flights. If there is a flight departing to Yangon from Loikaw, you can take flights to Yangon directly from Loikaw.
Contact us your tailor made requirements, for instance, if you need for our assistance with booking for accommodations and Myanmar domestic flights or other pre and post tour travel extras.