Mandalay City Day Tour

One day tour in the Royal City of Mandalay, Mingun and U Bein Bridge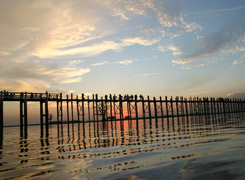 Pick up from your hotel: 07:45-08:30hour
Mingun by boat (Mingun Bell, Pathodawgyi Pagoda, Mya Thein Tan Pagoda)
Mandalay Palace
Kuthodaw Pagoda
Lunch at a restaurant: ~13:00hour
Golden Palace Monastery (Shwe Nan Daw), admire the structure of the Atumashi Pagoda from outside
Gold Leaf or Stone Carver Workshop
Maha Myat Muni Pagoda
U Bein Bridge to enjoy the sunset (visit a silk weaving workshop or the handicraft workshop in Amarah Purah if time allows)
Drop off at Hotel ~ 18:30hour
Prices (US$) per person based on group size
Tours
1 Guest
2 Guests
3 – 4 Guests
5 – 7 Guests
8 – 10 Guests
Mandalay City Day Tour
(Mandalay – Mingun – Amarapura – Mandalay)
Contact us for a quote and your tailor made requirments. Please provide us your travel date, group size and as much information as you can to give you a precise quote.
Mandalay Ancient Cities Day Tour
A day tour in Mandalay, Innwa (Ava), Amarapura, Mingun and Sagaing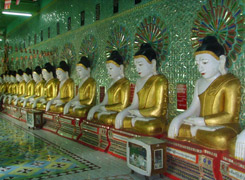 Pick up from your hotel ~07:30-08:00hour
Mingun (Mingun Bell, Pathodawgyi Pagoda, Mya Thein Tan Pagoda)
Sagaing Hill (Sun Oo Pon Nya Shin)
Lunch at a restaurant ~12:30hour
Sagain (Kaung Mu Daw Pagoda or a meditation centre, a local silver ware workshop)
Inn Wa (Bargayar Teak Monastery, Hsin Kyone Fort and Village, Maha Aung Myae Bonzan Brick Monastery (Mae Nu Oak Kyaung)
Amarapurah Silk Weaving work shop or a handicraft workshop
U Being Bridge (to enjoy the sunset)
Drop off at Hotel ~18:30hour
Prices (US$) per person based on group size
Tours
1 Guest
2 Guests
3 – 4 Guests
5 – 7 Guests
8 – 10 Guests
Mandalay Ancient Cities Tour
(Mandalay – Mingun – Sagaing – Innwa – Amarapura – Mandalay)
Contact us for a quote and your tailor made requirments. Please provide us your travel date, group size and as much information as you can to give you a precise quote.
Services include:
Ground & water transportation (car & boat)
English speaking guide
Services exclude:
Lunch & snacks
Drinks
Video Camera Tax
Zone Fees, entrance fees
Tipping for a job well done
Any other not mentioned in the service inclusion
U Bein Bridge
U Bein Bridge (built ~ 1850 when Amarapura was the Royal Capital and 0.75miles long), believed to be the oldest and the longest teakwood bridge in the world. We stop for a walk on the bridge (or under when there is no water and dry) to the village on the other side, there are plenty of opportunities for photos, witness the local way of life and the wildlife in the city. If time allows, visit Bagaya Monastery to see the collection of Buddha Statues.
At Warso or Mahagandayoan Monastery in Amarapurah, visitors can observe the daily life and routine of monks live and study there.
Maha Myat Muni Pagoda
Maha Myat Muni Pagoda is located in the South West of Mandalay. The 4 meter high seated Buddha image cast in bronze and weight 6.5tons has a crown which is decorated with diamonds, rubies and sapphires. The early morning ritual of washing the face of Buddha's image draws a daily crowd of devotees.
Mandalay Palace
. The whole palace was destroyed by fire during the WWII. The Palace walls, the four gates and the moats of the majestic palace city still stand today
Atumashi Monastery
Atumashi Monastery, also known as The Mahaatulawaiyan Monastery meaning "Incomparable Monastery", is located in the north eastern part of Mandalay Palace, about 10 minute drive from the Palace. It was originally built in 1857 by King Mindon (1853 – 1879). The original structures was a magnificent wooden structure with considerable exterior stucco and set on a high platform reached by a formal ceremonial staircase. It was considered as one of Southeast Asiai's most magnificent buildings by European visitors in 19 Century. The Monastery was burned down in 1890 after a fire in the city. The monastery was reconstructed with concrete in 1996 and it is now under Myanmar Archaeological Department. The inside of the monastery is a large prayer hall which is much less decorated than its magnificent exterior. It is one of Mandalay's important landmark and its magnificent exterior is worth admiring.
Kuthodaw Pagoda
Kuthodaw Pagoda lies at the foot of Mandalay Hill. It was built by King Mindon in 1868. It houses 729 marble slabs inscribed with the Tipitaka Text (the Three Baskets of the Buddhist Pali canon). It is also known as the "World's Biggest Book".
Kyauktawgyi Pagoda
Kyauktawgyi Pagoda (the Pagoda of the Great Marble Image) at the foot of Mandalay Hill was built by King Mindon in 1865. The large Buddha image was sculpted from a single block of beautiful Sagyin Marble.
Mandalay Hill
Mandalay Hill located in the north of downtown Mandalay. It is 230m above the sea level. The panoramic view of Mandalay City and the experience of the sunrise or sunset are the greatest attractions for visitors to climb up the Mandalay Hill.
Mingun
Mingun is situated 11 kilometres up river from Mandalay, on the western bank of Ayeyawady River. It is famous for Pahtodawgyi pagoda, an uncompleted stupa. The building of this one piece structure begun in 1790. The completed stupa would have been the largest in the world at 150 meters high. It is also home to the largest un cracked and ringing bell famously known as Mingun Bell. About hundred yards from the stupa and the bell lies 1816 built Myatheindan (or) Hsinbyume pagoda with a distinctive architectural style modelled after the mythical Mount Meru (Myinmo taung).
Sagaing
Sagaing is situated 20 kilometers to the south west of Mandalay, on the western bank of Ayerwaddy River. It is the capital of Sagaing division in Myanmar. It was the capital of Sagaing Kindom (1315 to 1364), one of the small kingdoms that rose up after the fall of Bagan dynasty. It became the royal capital between 1760 and 1763. Sagaing today is an important religious monastic centre with numerous Buddhist monasteries on numerous hills along the ridge running parallel to the river, pagodas, tranquil and remote valleys and meditation centres.
Innwa (Ava)
Innwa (the original pronunciation "Angwa"), founded by a Shan prince in 1364 between Ayeyarwaddy and Myit Nge Rivers. Its official name is Yatanapura, meaning city of gems. It was the capital of the Myanmar Kingdom than four hundred years. No other city in Myanmar had been the seat of government over such a long period.
It was being destroyed by the Mon in 1752 and lost its status as a royal city several times before it was being superseded by Amarapura Royal City in 1841. Most part of royal buildings were being destroyed by an earthquake in 1838. The wall of the ancient royal city could still be seen.
The main attraction of Innwa is The Maha Aungmye Bonzan Monastery, also known as Me Nu Oak Kyaung. It was commissioned by King Bagyidaw's principal wife, Me Nu in 1818, and built of stone in traditional style, with elaborate stucco ornamentations that look like carvings. In the middle of this ochre-coloured monastery is a statue of Buddha on a plinth, decorated with glass mosaics.
Amarapura
Amarapura is located 11 kilometers south of Mandalay, borders to Ayerwaddy River in the west, ancient capital Innwa (Ava) in the south and Chanmyatharzi township of Mandalay in the north. It is often refer to as "Taung Myo" (Southern City – in relation to Mandalay). It was the royal capital of Myanmar twice (1783–1821 and 1842–1859) during the Konbaung era before finally being superseded by Mandalay. Today's Amarapura is part of Mandalay. It is a popular day trip destinations for local and tourists alike and famous for its traditional cottage industries for bronze casting, silk and cotton weaving.
Estimated Travel Expenses in Mandalay & Environs
Below information is for guidance only and subject to changes.
| | |
| --- | --- |
| Zone/ Entrance Fees for Mandalay: | $10 Mandalay zone cover all the sites in this city tour. |
| Zone/ Entrance Fees for Mingun & Sagaing: | US$ 3 for Sagain Zone Fees (Mingun is in Sagaing Zone) |
| Video camera fees (charged at some sites): | ~US$1 |
| Meal in a good Myanmar restaurant (local): | US$4 – US$8 per person (~ US$2 in some very simple restaurant) |
| Meal in a good restaurant (tourist place): | US$8 to US$15 per person |
| Beer: | US$1 to US$3 |
| Purified drinking water (1L bottle): | US$ 0.5 |
| Coca-Cola: | US$1 |
Meal at a 4* hotel or a very good western standard restaurant: US$20 to US$100 per person plus wine
Mandalay, Amarapura, Innwa (Ava), Mingun & Sagaing – Images