Mawlamyaing & Pha An
3 night 4 day Off The Beaten Trek in Mon & Kayin States (Yangon – Kyaikhto – Thaton – Pha An – Eindu – Mawlamyaing – Yangon)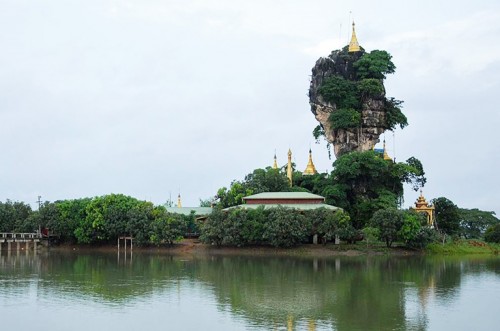 Day:1
Yangon – Kyaikhto – Thaton – Pha An
Early morning departure from Yangon for Pha-An, the capital of Karen State via Thaton. Just before Thanlwin Bridge, stop at Kawgoon caves decorates with 7th century artwork. Arrive Pha-An and if time permits we would go for the evening observation tour to Shweyinmyaw pagoda located by the Thanlwin River. Overnight in Pha-An.
Day:2
Pha An – Eindu – Mawlamyaing
Breakfast at the hotel or take a chance to taste the local tea & snack at local café/ tea shop. Morning sightseeing at Pha An includes bustling jetty and the local market, the foot of Zwekabin Hill (the famous landmark of Karen state) and Kyaukkalat (a small rock hill formed like a wine glass). Continue drive along the circular road of Zwekabin hill to arrive Eindu before reaching Mawlamyaing. Along the way one can visit Saddam lime stone cave and Khayonegu, the limestone cave enshrines with numerous Buddha images, stalactites and stalagmites. Arrive at Mawlamyaing in the evening. Overnight in Mawlamyaing.
Day:3
Mawlamyaing – Thanbyuzayat – Mawlamyaing
Breakfast at the hotel. Drive to Mudon to see the impressive world's largest reclining Buddha image and its nearby panorama. Continue to Thanbyuzayat, where you can see the well maintained Thanbyuzayat War Cemetry where 3617 former Allied prisoner of WWII were burried. Back to Mawlamyaing. Evening visit to Kyaikthanlan pagoda and view point situated on the top of the mountain range. Overnight at Mawlamyaing.
Day:4
Mawlamyaing – Yangon
Breakfast at the hotel. Return to Yangon via Myanmar's longest bridge across the Thanlwin River. Excursions stops shall be made to explore some villages on the way back. Arrive back in Yangon by the evening.
Contact us your tailor made requirements, for instance to make an onward journey towards Myawaddy/ Mae Sot Thai border instead of coming back to Yangon, for our assistance with booking for accommodations and Myanmar domestic flights or other pre and post tour travel extras.
Prices (US$) per person based on group size
Tours
1 Guest
2 Guests
3 – 4 Guests
5 – 7 Guests
8 – 10 Guests
Mawlamyaing & Pha An

3 night 4 day (Yangon – Kyaikhto – Thaton – Pha An – Eindu – Mawlamyaing – Yangon)
Contact us for a quote and your tailor made requirments. Please provide us your travel date, group size and as much information as you can to give you a precise quote.
Services include:
Accommodation
Ground transfer and transportation as per itinerary
Sightseeing tour with entry fees at the destinations as per itinerary
Services of English Speaking Guide throughout the trip
Services exclude:
Drinks & Beverages
Personal expenses & gratitude, porter charges
Travel insurance
Domestic flights, International flights and airport taxes
Meals arrangement for all lunches & dinner during the trip
Seasonal Supplements
Tipping for a job well done
Any other not mentioned in the service inclusion
Pha An
Pha An is the capital of Kayin State. It is a small, energetic and friendly town located 270 kilometres east of Yangon across a bridge from Thanlyin River (Myanmar part of Salween River). It has recently been open to foreign travellers. The major attraction in the area include Pha An's landmark Mount Zwekabin (722 meters above sea level), Kawkun Cave (a sacred site with thousands of Buddha images and a hidden gallery of 7th Century artwork located 8 miles south of Pha An) and Kyauk Kalap (a sole column of rock standing sheer out of a lake), and Saddan Cave (a breathtakingly huge cavern containing many Buddha images inside).
Mawlamyaing (Moulmein)
It is the fourth largest city of Myanmar after Yangon and Mandalay, the capital and the largest city of Mon State and the main trading center and seaport in south eastern Myanmar. It is situated at the mouth of Thanlwin (Salween) River, 300 kilometres south east of Yangon. During the colonial times, it is also known as "Little England" due to the large Anglo-Burmese community.
The major attraction in Mawlamyaing is Kyaikthanlan Pagoda, also well known as Kipling's Pagoda. The 150 meters tall Pagoda overlooking the town centre is the highest structure in town. It was built in 875 AD and believed to enshrine the hair relic of the Buddha.
The most prominent landmark is the 3333 metres long Thanlwin Bridge, the longest road and rail bridge in Myanmar, stretching over the Thanlwin (Salween) River.
The other major attraction located 20 kilometre south of Mawlamyaing is Win Sein Taw Ya Pagoda, the world's largest reclining Buddha image. It is 180 metres long and 30 metres high. There are numerous rooms with dioramas of the teachings of Buddha inside the Pagoda. It is the world's largest reclining Buddha image.
Thanbyuzayat
It is located 64 kilometres south of Mawlamyaing in Mon State of Myanmar, famous for Thai – Burma death railway linking up with the pre-war coastal railway between Ye and Rangoon which was constructed during World War II under the Japanese occupation. During the WWII, it was also a Japanese Prisoner of war camp for the prisoners who worked on building the railway. Tens of thousands of people including the allied prisoners of wars died during the construction of this railway. More than 3,000 Allied Prisoner of Wars are buried in Thanbyuzayat War Cemetery.
Pha An, Mawlamyaing & Environs Images
Photo credit for below photos: "©MyanmarTravelInformation".