Monywa Day Tour
One day tour in Monywa & Environ (Monywa, Moehnyin Thanboddhay, Bodhi Tataung, Kyaukka, Shwe Gu Ni)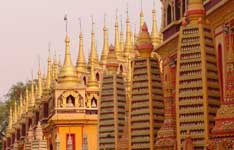 Pick up from your hotel in Mandalay: 07:30-08:00hour
Drive from Mandalay towards Monwya.
Lunch ~ 12:00hour
Thanboddhay Pagoda
Bodhi Tataung Pagoda
Kyaukka Village
Shwe Gu Ni Pagoda
Return to Mandalay
Drop off at your hotel in Mandalay ~20:00hour
Prices (US$) per person based on group

size
Tours
1 Guest
2 Guests
3 – 4 Guests
5 – 7 Guests
8 – 10 Guests
Monywa Day Tour
(Mandalay – Monywa – Moehnyin Thanboddhay – Bodhi Tataung – Kyaukka – Shwe Gu Ni)
Contact us for a quote and your tailor made requirments.
Please provide us your travel date, group size and as much
information as you can to give you a precise quote.
Services include:
Ground & water transportation (car & boat)
English speaking guide
Services exclude:
Lunch & snacks
Drinks
Video Camera Tax
Zone Fees, entrance fees
Tipping for a job well done
Any other not mentioned in the service inclusion
Monywa
Monywa is a tranquil town by Chindwin River. It is also a major centre for trade and commerce for agricultural produce from the surrounding Chindwin Valley. It has a very busy market, many popular restaurants and a degree college affiliated with Univerysity of Mandalay. It also has some really important attractions and archaeological sites in Myanmar, such as Thanboddhay Pagoda, Bohti Tataung Pagoda, Shweguni Pagoda, Hpowin Taung, Shwe Ba Taung and also Twin Taung, an extinct volcano famous for its breath-taking crater lake where very rare Spirulina is found.
Thanboddhay Pagoda
Thanboddhay Pagoda (also known as Mohnyin Thanboddhay Pagoda) is the most unusual Buddha temple complex in Myanmar. The temple has a unique shape in the whole of Myanmar, resembling Boroburdur in Indonesia. The entrance is guarded by a par of magnificent white elepant statues, again different from other temples in Myanmar which are guarded by Chinthes (Lions). The wall and archway are decorated with more than 580,000 Buddha images. It dates from 1303, but was reconstructed in 1939 and the completed in 1952. It is a brain child of the famous Mohnyin Sayadaw whoes life-like effigy can be seen nearby. It is a well maintained modern worship place with some modern Buddhist arts
Bodi Tataung Paogda
It is also known as Mahar Bodhi Tataung Laykyun Setkyar Pagoda, established by Bodhi Tahtaung Sayadaw in 1960s. This site has one thousand Bodhi trees, each tree has a large Buddha image underneath. It also houses the second tallest statue in the world, the Mahar Bodhi Tataung Laykyun Setkyar Standing Buddha (129 meters tall) and the largest reclining Buddha in Myanmar, (95 meters long).
Bodhi Tahtaung Pagoda in Monywa has one thousand Bodhi Trees and each tree has a large Buddha Image underneath. It was established by Bodhi Tahtaung Sayadaw in 1960s. Po Khaung Taung, a range of hills, lies east of Bodhi Tahtaung Pagoda. The largest reclining Buddha image in the world which is 91 meters long is lying on that hill. This huge image has a hollow cave-like structure inside and you can walk from head to toes. Some of the important events in the life of the Buddha are displaying inside the image. The standing Buddha statue has a hollow cave like structure inside where you can walk up, the inside was decorated with Buddhist arts including some important events in the life of Buddha.
Kyaukkar
Kyaukkar Village near Shweguni Pagoda is located 12 miles east of Monwya is well known for its pre-Chaing Mai styel lacquerware since Konbaung era. Typical black and gold lacquerwares of Kyaukkar are heavier and more refined and artistic than Bagan lacquerwares. The lacquerware cottage industry is worth checking out. The village could be really crowded during Shwegui Ni Pagoda festival in May.
Shwe Gu Ni Pagoda
This 14th centry pagoda located 20 miles east of Monywa is famous among locals for its wish-fulfilling powers. It is one of the most important pilgrimage sites in upper Myanmar. It houses a 33 meter tall Buddha image. The original face of the image was hard to see due to thick quote of gold foil applied by Buddhist devotees & pilgrims. Shwe Gu Ni Pagoda festival is held in Myanmar month of Kason, in May, when the whole site is fully packed with local pilgrims.
Hpo Win Taung (Powin Taung)
This extraordinary Buddhist cave complex, 15.5miles west of Monywa and on the western bank of the Chindwin River. The name "Hpo Win Taung" could be interpreted as "Mountain of Isolated Solitary Meditation@. The complex contains 947 sandstone caves dug out of the hill and contain many carved Buddha images and well preserved mural paintings of geometric pattern and Jataka stories (ancient Buddhist history) in vivid colours dated between 14th and 18th centuries. Some caves have beautiful exterior decoration. Pho Win Taung/ Hill has been claimed by archaeologist to be the riches collection of mural paintings and Buddha statues in South East Asia.
Shwe Ba Taung
Shwe Ba Taung complex is just beyond the Pho Win Tauung within a short walking distance. Monasteries and temples are carved out of the narrow volcanic rocky cliffs, probably enlarged and the entrances cut or neatened and filled with Buddha images. Natural gorges have been widened and sand stone stairs built for pilgrims to walk between caves. Mural painting dates 13th century could be seen in inner walls of some caves.
An additional structures were built in colonial era, such as the brick entrances with archways built across the pillars complete with Corinthian capitals. The archways are also elegantly decorated with a fusion of European and Myanmar motifs, unicorns and the Chinthés (a celestial lions of Myanmar) in pestal colours, and the designs complement each other.
Both Hpo Win Taung and Shwe Ba Taung are very tranquil place except during the annual Pagoda festival in October or November of the year, when both complexes are packed with pilgrims and festival goers.
Other attraction near Monwya:
Twin Taung
Twin Taung is located north of Monywa. It is about 2hour drive from Monwya and off the Monywa – Kalaywa Highway. The main attraction of Twin Taung is the extinct volcano with a crater lake where a very rare Spirulina is found. Spirulina is used in cosmetic, dietary supplement and medicinal products. After a climb to the top of the volcano visitors will have great views of the natural surroundings. The state run factory at the base of the hill on the lake shore is one of the 4 locations where Spirulina is produced. Twin Po (the local name for the edible insect of Twin Taung) is another famous produce and delicacy of the area. Almost 75% of the local villagers catch Twin Po during the monsoon season, which are sold throughout the country.
The scenery around this beautiful lake is also breathtaking and worth the visit.
Estimated travel expenses
Below information is for guidance only and subject to changes.
Entrance Fees for Monywa:
US$ 3
Entrance Fees for Shweba Taung:
US$ 2
Entrance Fees for PoWin Taung:
US$ 3
Video camera fees (charged at some sites):
~US$1
Meal in a good Myanmar restaurant (local):
US$4 – US$8 per person (~ US$2 in some very simple restaurant)
Meal in a good restaurant (tourist place):
US$8 to US$15 per person
Beer:
US$1 to US$3
Purified drinking water (1L bottle):
US$ 0.5
Coca-Cola:
US$1
Meal at a 4* hotel or a very good western standard restaurant: US$20 to US$100 per person plus wine
Monwya Images