Mount Victoria – Chin Hill Tour
3 night 4 day tribal and eco tour in Chin Hill
(Bagan – Kanpelet – Mount Victoria – Mindat & Environs – Bagan)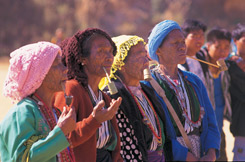 Day:1
Bagan – KanpeletOur guide will pick you up from your hotel in Bagan or Bagan Nyaung U Airport, we aim to leave Bagan for Kanpetlet by 9AM. We will have approximately 6 hour drive covering 169km today including stops and lunch. We will drive along the passing through Chauk (a town rich with old and new oil fields, Seikphyu, Ka Zun Ma Village and Hsaw. We will stop for a picnic lunch enroute or Kanzun Ma Village. After Seikphyu we will start driving up the Pong Taung Pong Nyar mountain ranges, the first settlement of primitive age, infamous among archaeologist as recent discover by the joint International team the fossilized remains found from Pontaung formation about 34 to 50 million years ago. As we drive up from flat to hilly regions on the zig zag mountain roads passing natural forests and valleys, the temperature gets cooler. Upon arrival at Kanpetlet, we will explore part of the town and visit some nearby villages around town to meet with Ra, Muun, Daai and Yin Do tribal women wearing different facial tattoo patterns on their faces. Each clans of Chin ethnic has their own pattern which distinguishes them from one another. Dinner at your own expenses. Overnight at the hotel in Kanpetlet (1390 m above sea level).
Day:2
Kanpelet – Mount Victoria (Natmataung) – Aye Village – KanpetletAfter breakfast at the hotel, we will drive for about 30 minutes through the scenic pine forests to the base of Mount Victoria (1982 meter above sea level). A 2.5 hour moderate trek from the base camp to the summit of the Mount Victoria (3053 meter above sea level) is through the stunning landscape of savanna forests along the winding narrow walking path. During the ascent, you will have to chance to see rare blood red Rhododendrons, myriad of orchids and other forest flowers as well as butterflies and wild fruits whilst enjoying the memorable panoramic view of the steps of Chin mountain ranges. There is also an option of going up by a motorbike taxi at your own expenses which takes about 15 minutes. Upon arrival at the peak of the mountain, the 3rd highest mountain in Myanmar, catch your breath over a panoramic view of the mountain ranges of India in the distance and have a picnic lunch (which can be ordered from the hotel at your own expenses) whilst enjoying the view the surrounding of Chin Hills. After descending back to the starting point, we will drive for 90 minutes to Aye Village, 12 miles from the Mount Victoria base camp. Aye Village is a former British Hill camp with some old and dinky colonial buildings in town. Overnight in Kanpetlet.
Day:3
Kanpetlet – Mindat & Vicinity – Chin VillageAfter breakfast check out from the hotel, and drive to Mindat via Saw (approximately 2 hour drive, covering ~71km). After checking in at the hotel, we will visit a nearby Chin Village, Baungte, for a gentle trekking up and down the hills along the slope of the mountain with the view of beautiful scenery of the floating cloud among the high mountain ranges and varieties of wild flowers. At the entrance of the village, the poles and monuments marked the story and achievements of the villagers. The traditional Chin houses are built on stilt, long houses with a wall decorated by hanging skulls of hunted animals as the trophy of good hunters. The villagers work on farm and the harvest is stored in barn. We will walk around the village, chat with villagers, have a rest and packed lunch at one of the local houses. We will then proceed to Kyardo and Pann Wa, Chin traditional villages. There are a lot of local ways of lives to explore in and around the village. Return to Mindat. If time permits, we will explore a Chin Christian Church and then proceed to Taung Pulu Buddhist Pagoda to observe the beautiful sunset from the hill top. Dinner at a restaurant on the main strip of Mindat town (at your own expense). Overnight in Mindat.
Day:4
Mindat – BaganAfter breakfast at the hotel, we will have chance to visit the Mindat Market, a small cultural museum and visit the Makaan Chin ladies with tattooed face wearing big earrings and listen to the music as she plays flute with her nose. We will aim to be back in Bagan around 5PM. We will have approximately 6 hour drive covering 169km today including stops and lunch. We can take you to your Bagan Hotel or to Nyaung U Airport for your onward journey.
Contact us if you want to tailor made this tour, for instance, if you want to start and end the tour in Mandalay in stead of Bagan, start the tour in Bagan/ Mandalay and end the tour in Mangalay/ Bagan or if you require assistance with booking for other pre and post tour travel extras.
We offer special rates, bigger group discounts and promotions at times, and when you buy other travel services from us.  Contact us for details and your tailor made requirements.  Please provide us your travel date, group size and as much information as you can, this will allow us to give you a precise quotations.
Services include:
Accommodation
Ground transportation by Jeep or Pick-up truck
Sightseeing tour with entry fees at the destination Royalty Fees
Services of English Speaking Guide throughout the trip
Services exclude:
Drinks & Beverages
Personal expenses & gratitude, porter charges
Travel insurance
Domestic flights, International flights and airport taxes
Meals arrangement for all lunches & dinner during the trip
Seasonal Supplements
Tipping for a job well done
Any other not mentioned in the service inclusion
</ul
Keng Tung (Kyaing Tong)
Keng Tung is the capital of Eastern Shan State and former capital of Keng Tung State, is located in the famous Golden Triangle Region where Myanmar, Thai and Laos territories meet. It lies in the valley between the high misty mountains of the Shan Plateau bordered by the Mekong and the Salween (Thanlwin in Myanmar) Rivers. From 1243 A.D to the last Shan Saopha (the Chieftain), Burmese people pronounced as Sawbwa, 45 Shan Sao Phas reigned the Keng Tung State. Keng Tung means "Walled City of Tung", the original city walls and gates can still be seen today. Wat Zom Khun and Wat In wooden monasteries built in Shan architectural style, claimed to be close to those of Laotian and Thai temples, are one of the highlights. Traditional Shan arts workshop could be seen at U Mu Ling Ta's lacquer ware shop.
There are regular flights between Keng Tung and Heho, Mandalay or Yangon. After crossing Thai Myanmar border from Mae Sai into Tachileik, travellers can get to Keng Tung on an approximately 3 hours car journey.
There are approximately 35 different ethnic groups settled in the area, including Gon Shan, Palaung, Ang, Loi, Akha, Lisu, Lishaw, Lahu, Wa and Lahu. Although these ethnic groups live in separate villages some distanced from each other without mingling freely, they live with harmony and peace. Each tribe has preserved their ancient customs and traditions as well as their unique and colourful costumes. Market in Keng Tung is a very important economic hub of the area, where all different ethnic groups and tribal people come to trade, buy and sell.
It is an ideal place for cultural exploration of hill tribes, birdwatching, mountain biking tours, trekking and eco tours.
Loimwe
Loimwe, 38 km to the east from Kyaing Tong, was the seat of the British District Commissioner during the colonial period. This 'hill station' features a number of old colonial buildings and a century-old Catholic church. The main attraction is the scenery on the ascent to Loimwe, as you pass through forests, terraced rice fields and past a lake. It is accessible from Keng Tung via car.
Mongla
Mongla is right on the border with Xishaungbanna in China but on the Myanmar side. China border can be reached from Kyaing Tong by road (2 ½ hours). Mong La is a flourishing town where the border trade, especially the tourist industry is booming. Tourist across the border pour in daily to do shopping, see the highly popular elephant circus and crocodile show or just to relax at a pleasant picnic site surrounded by emerald green mountains. It is accessible from Keng Tung via car.
Tachileik
Tachileik, also known as the gate way to Myanmar site of theGolden Triangle area, is a border town of Eastern Shan State in Myanmar. It is bordered to the north of Mae Sai, Thailand. Border trade in that area flourishes with the produce from Myanmar and Thailand as well as with the goods from China through Myanmar-China border to Thailand and goods from Thailand through Myanmar-Thai border to China.
Since the change of the immigration regulations in August 2013, Tachileik is one of the permitted border crossing frontiers with Thailand for both traders and tourists. Border crossing permission for limited number of days to spend in Tachileik/ Keng Tung regions only, can be applied at the border check point. However if travellers intend to proceed into main land Myanmar, they need to have a Myanmar Visa in their valid passport prior to their arrival at the border gate, see details in the information for Myanmar Border Crossings
Kengtung (Kyaing Tong) & Environs Images