Pyay & Sri Ksetra UNESCO World Heritage Site
2 night 3 day Tour (Yangon – Pyay – Akauk Mountain – Hmawaza Village – Pyay – Yangon)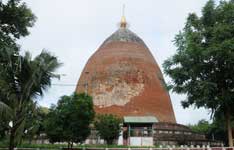 Day:1
Yangon – Pyay
Pick up at your hotel in Yangon. Five hours car journey to Pyay, north west of Yangon. Pyay is situated at the confluence of the mighty Ayeyarwaddy River and Nawin River. Late afternoon tour in Pyay including China town and market, and Shwesandaw Pagoda on a hillock from where you can see a beautiful view. Overnight in Pyay.
Day:2
Pyay – Akauk Mountain – Pyay
Breakfast at the hotel. Drive from Pyay to Htone Bo Village from where we take a short boat ride to reach Akauk Mountain. The view of hundreds of Buddha images curved on the cliff of Akauk mountain which can be seen from the boat is marvelous. The cliff is also accessible by a short trek. Return to Pyay. Overnight in Pyay.
Day:3
Pyay – Hmawza Village – Pyay – Yangon
Breakfast at the hotel. Drive to Hmawza Village located 8 km south of Pyay. This village has the ruins of the existence of Sri Ksetra. There is a small museum which exhibits the artifacts of Sri Ksetra era between 500 and 900 AD. If you prefer, you can take a 2 hour bullock cart ride service provided by the locals to look around the ruined city of Sri Ksetra. Back to Pyay and return to Yangon.

Alternate Route:
There are 2 -3 flights between Yangon and Loikaw by Myanmar Airway domestic flights. If there is a flight departing to Yangon from Loikaw, you can take flights to Yangon directly from Loikaw.
Contact us your tailor made requirements, for instance, if you need for our assistance with booking for accommodations and Myanmar domestic flights or other pre and post tour travel extras.