Pyin Oo Lwin Day Tour
(Mandalay – Pyin Oo Lwin & Environ – Mandalay)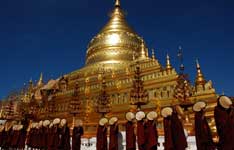 Pick up from your hotel in Mandalay: 07:30-08:00hour
Drive from Mandalay to Pyin Oo Lwin (2-2.5hours).
A short walk in the centre to see Purcell Tower and the local market
National Kandawgyi Gardens (also known as Maymyo Botanical Garden)
Observe some colonial buildings around the lake if time allows
Lunch: around 12:30hour
Pwekauk Waterfall
Peikchinmyaung Natural Cave
Stop by at a strawberry plantations and local plum liquer cottage industry if time allows
Drive back to Mandalay around 5:30PM
Drop off at your hotel in Mandalay
Prices (US$) per person based on group size
Tours
1 Guest
2 Guests
3 – 4 Guests
5 – 7 Guests
8 – 10 Guests
Pyin Oo Lwin Day Tour
(Mandalay – Pyin Oo Lwin & Environ – Mandalay)
Contact us for a quote and your tailor made requirments. Please provide us your travel date, group size and as much information as you can to give you a precise quote.
Services include:
Ground & water transportation (car & boat)
English speaking guide
Services exclude:
Lunch & snacks
Drinks
Video Camera Tax
Zone Fees, entrance fees
Tipping for a job well done
Any other not mentioned in the service inclusion
Pyin Oo Lwin
Pyin Oo Lwin (formerly known as Maymyo), situated 1050 above sea level and located 69KM east of Mandalay, about 2-2.5hour drive. It was originally a Shan Danu Village which was transformed into a British Hill Station in 1896. During the colonial days many South Asian migrated to this town. Today Pyin Oo Lwin has a large population of Indaian, Nepali, Anglo-Burmese, Anglo-Indian and migrants from Yunnan province of China. It is a multicultural town. It also has a very pleasant climates, temperature rarely goes above 30°C in the summer and could go down below 10°C in the winter months. Pyin Oo Lwin is famous among local for strawberries, jams, peaches & plum (fruits and liquor), coffee, flowers, sweaters and sweater cottage industry and the main market full of shops selling these local produce. There are also road side shops, café and restaurant on Mandalay – Pyin Oo Lwin and Pyin Oo Lwin – Lashio Raod where travellers stop to break for refreshment and shopping local produces for souvenir.
Its main attractions include one of the most beautiful botanical gardens, some old colonial buildings and easy access to nature such as waterfalls, natural caves.
National Kandawgyi Gardens is located about 1.5KM south of the city. It was established in 1915 by Alex Rodger as the Maymyo Botanical Gardens, is one of the most beautiful botanical garden in the world. It has a rich and diverse collection of flora including many English plant varieties, roses and orchids. It also has a bird area, butterfly museum and houses some exotic species including Tackin (Budorcas Taxicolor) from Myanmar Himalayas. Opening time is from 10:00 to 18:00hours and entrance fees are US$5 for foreigners and 200Kyats for tourists.
Some colonial Tudor style houses still stand though not in a very good conditions. There are also many churches and the oldest dates ~1910.
Purcell Tower
Purcell Tower is located in downtown Pyin Oo Lwin on the main road, which is part of the Mandalay – Lashio Highway. It was a present from Queen Victoria and the clock in this tower is reported to copy the chimes of Big Ben.
Yunnan Chinese Temple
A large and colourful Chinese Temple built by Chinese immigrants from Yunnan Province of China, is located in South of the town, close to Candacraig. The six tower story temple has seating areas. The temple complex has an orphanage and a nursing home.
Pwae Kauk Waterfall
Pwae Kauk Waterfall, also known as Hampshire Falls during British era, is located 8KM north east of the town, on Mandalay – Lashio Road. It is a popular day trip destination and picnic spot for local families.
Peik Chin Myaung Natural Cave
Peik Chin Myaung Natural Cave lies further along the road to Lashio. The deep caves was recently discovered and all the Buddha images place in there are pretty new. There is a water stream going through the cave and visitors must take care in the cave where there are low ceiling.
Shan Villages
Mogyopyit, Yechando and Ye Ngeye could be visited on the way to Pwe Kauk Falls.
U Naung Gu, a natural cave containing several Buddha images, is one hour hike away from Pwe Kauk Fall. It is used by local for a quite meditation.
Bagan, Salay, Mount Popa – Images