Sittwe & Mrauk U
3 night 4 day cultural heritage tour in Rakhaing State (Yangon – Sittwe – Mrauk U – Sittwe – Yangon)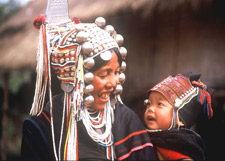 Day:1
Yangon – Sittwe
Pick up from your hotel to airport. Fly from Yangon to Sittwe. Sittwe, an old bustling port town situated on an island located at the confluence of Kaladan River, Laymyo River and Mayu River. Nowadays, the city is the capital and port of Rakhine state. Sightseeing highlights include the Buddhist Museum – one of the best place to learn Rakhine cultural and their devotes in Buddhism. Evening we will walk along the strand road and visit view point. Overnight in Sittwe.
Day:2
Sittwe – Mrauk U
Breakfast at the hotel. Transfer to the jetty for the boat to Mrauk U. Take a local boat along the Kalandan river about 5~6 hours (depend on tidal direction) to reach Mrauk U, the royal capital of old Rakhine Kingdom. Arrival Mrauk U and transfer to the hotel. We will visit Lay Myatnar Pagoda; Chin Kite Pitaka Library; Rakhine Museum and old Palace site. Overnight in Mrauk U
Day:3
Mrauk U
Breakfast at the hotel. Today visit starts with an hour drive to see the remains of Vesali (Waithali), an old royal capital of Rakhine Kingdom, which was believed to be flourished around 6th century. We will see the some traces of old palace ground, city wall and old temples still standing. Another half an hour drive will bring us to the site of Dhanyawadi, another old royal capital of Rakhine Kingdom which was estimated to be established before Vesali. Apart from the traces of old city wall and palace ground, another attraction there is the Mahamuni Temple. Drive back to Mrauk U.
Afternoon, we will visit the old remains of its flourish time, around 16th century, become the most interesting sightseeing places nowadays like Koethaung Temple; Shittaung Temple, (a temple with 80,000 Buddha images) constructed using stones and stones bracket without using any mortar; Htokekanthein, named because of its stone beam structure and situated on a small mount. Overnight in Mrauk U.
Day:4
Mrauk U – Sittwe – Yangon
Breakfast at the hotel. Boat journey to Sittwe. Transfer to the airport for the flight back to Yangon.
Contact us your tailor made requirements, for instance to spend an extra day in Chin Hill, for our assistance with booking for accommodations and Myanmar domestic flights or other pre and post tour travel extras.
Prices (US$) per person based on group size
Tours
1 Guest
2 Guests
3 – 4 Guests
5 – 7 Guests
8 – 10 Guests
Sittwe & Mrauk U 3 night 4 day (Yangon – Sittwe – Mrauk U – Sittwe – Yangon)
Contact us for a quote and your tailor made requirments. Please provide us your travel date, group size and as much information as you can to give you a precise quote.
Services include:
Accommodation
Ground transportation by Jeep or Pick-up truck
Sightseeing tour with entry fees at the destination Royalty Fees
Services of English Speaking Guide throughout the trip
Services exclude:
Drinks & Beverages
Personal expenses & gratitude, porter charges
Travel insurance
Domestic flights, International flights and airport taxes
Meals arrangement for all lunches & dinner during the trip
Seasonal Supplements
Tipping for a job well done
Any other not mentioned in the service inclusion
Sittwe
Sittwe is the capital of Rakhine (Arakan) State in Western Myanmar. The old and bustling city is located on the island at the confluence of the Kaladan , Laymyo and Mayu Rivers, and it's western boundary is the Bay of Bengal. It is also the gate way to the ancient city of Mrauk U. Following the first British annexation to Myanmar, Sittwe became the trading sea port, it remains as the main sea port of Rakhine State today. Fishing, fish farming, producing and warehousing of fishery products are the main businesses in Sittwe.
.
The Buddhist Museum in Sittwe houses a good collections of RAkhine style Buddha images. View Point, more commonly know as "Point", located on the southern tip of the city where the Bay of Bengal and the mount of the Kladan River meet, is one of the main attractions.
Mrauk U
Mrauk U, the capital of the last Rakhine Kingdom, is an archeologically important ancient town in northern Rakhine State of Myanmar. It was built in 1431 AD by King Min Saw Mon and remained its capital until 1785 AD. It is situated between Kaladan and Lay Mro Rivers and is surrounded by hills in the north and the south. It can be reached by boat from Sittwe, the boat journey takes about five hours.
P>Every mound and every hill within the Mrauk U city wall are dotted with Buddha images, pagodas, temples and ordination halls built with sandstones. Below are some of the famous and note-worthy religious monuments in Mrauk U.
Htukkanthein Temple (Cross-Beam ordination hall) built in 1571 AD
Shite-thaung Temple (Temple of 80,000 Buddha images) built in 1535 AD
Andaw-thein ordination hall, which shrined the a tooth relic of Buddha, built in 1521 AD
Ratana-pon Pagoda, built in 1612 by King Khamaung and his Queen Shin Htway
Koe-thaung Temple (Temple of 90,000 Buddha images) built between 1554 and 1556 by King Dikkha
Soil is rich in Mrauk U and paddy is easily grown there. Mrauk U also have approximately 100 species of mammals (wild boars, stags, hogs, barking deer, leopards, wild cats, jackals, moneys and bears), 300 species of birds (jungle fowl, house crow, house sparrow, jungle sparrow, robin, hawks, owls, hornbiils, woodpeckers, imperial pigeon, green pigeon and wild ducks) wander in the surrounding hills and a varieties of wild animals roam around the nearby countryside. Famous royal elephants in Myanmar were once found in the forests of northern hills, however they have now migrated to Maru Ridge, northwest of Mrauk-U.
Sittwe & Mrauk U Images