The Golden Rock (Kyaikhtiyo)
1 night 2 day excursion to Kyaikhtiyo from Yangon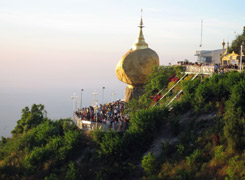 Day:1
Yangon – The Golden Rock (Kyaikhtiyo)
Pick up from your hotle. Five hours drive to the Kimpun Camp. Upon arrival at Kimpun Camp, board onto the uphill pick up truck to reach ther Hermit's Hill. A short trek (approximately one hour) will take you to the summit where you can see Kyaikhtiyo, the Golden Rock, a large boulder positioned well balanced on the cliff of that mountain which seems to be defying the force of gravity from the spur of the cliff. Enjoy sunset view over deep forested mountain. Overnight in Kyaikhtiyo.
Day:1
Golden Roack (Kyaikhtiyo) – Bago – Yangon
After an early rise to view the sunrise and at the Golden Rock, trek to nearby "Crow Beak" cave and Hunter's Hill before breakfast. Breakfast at the hotel and descend the mountain to reach back to Kimpun Camp to start the return journey back to Yangon. Visit Bago en route and visit the gigantic "Kyaikpun" Buddha Images, Shwemawdaw Pagoda (towering 375 feet and taller than Shwedagon) and Shwethalyaung reclining Buddha Image, a masterpiece of Myanmar stucco originally built in 994 AD. Arrive back in Yangon, transfer to your hotel in Yangon.
Contact us your tailor made requirements, for instance to spend an extra day in Chin Hill, for our assistance with booking for accommodations and Myanmar domestic flights or other pre and post tour travel extras
Prices (US$) per person based on group size
Tours
1 Guest
2 Guests
3 – 4 Guests
5 – 7 Guests
8 – 10 Guests
The Golden Rock (Kyaikhtiyo)
Contact us for a quote and your tailor made requirments. Please provide us your travel date, group size and as much information as you can to give you a precise quote.
Services include:
Accommodation
Ground transportation by Jeep or Pick-up truck
Sightseeing tour with entry fees at the destination Royalty Fees
Services of English Speaking Guide throughout the trip
Services exclude:
Drinks & Beverages
Personal expenses & gratitude, porter charges
Travel insurance
Domestic flights, International flights and airport taxes
Meals arrangement for all lunches & dinner during the trip
Seasonal Supplements
Tipping for a job well done
Any other not mentioned in the service inclusion
Kyaikhtiyo, the Golden Rock
Kyaikhtiyo, much better known as The Golden Rock Pagoda, is a boulder at an elveant of 1100 meters above sea level precariously perched on the edge of the Kyaikhtiyo Hill, 166 km northeast of Yangon in Kyaikhto township of Mon State in Myanmar.
According to the legends, Buddha gave a strand of his hair to a hermit called Taik Tha during one of his many visits. The hermit had tucked it in the tuft of his hair safely and later gave the strand to the King, with the wish that the hair to be enshrined in a boulder shaped like hermit's head. A rock that looks like the hermit's head was found at the bottom of the sea and pagoda was built in Kyaikhtiyo where the strand was enshrined. As per legends, the strand of hair prevents the rock from tumbling down the hill.
It is probably the third most important Buddhist pilgrimage site in Myanmar. During the pilgrimage season from November to March, an atmosphere of devotion could be witnessed at Kyaikhtiyo pagoda. One of the most famous festival held there was 9000 candle lighting which fell usually on the 01 January.
Kyakhityo Pagoda could be reached from Yangon after 5 hour drive to Kinpun Camp (base camp), an uphill truck ride to Hermit Hill and an hour walk to the pagoda on the summit. The whole area is replete with magical events and is famous for its unspoiled ecology. It is a unique place that offers a memorable experience to all visitors.
Bago
Bago, formerly known as Hanthawaddy, is the capital of Bago region in Myanmar located 80 Km north of Yangon. It is also the ancient capital of Mon Kingdom which covers all of what is now Lower Myanmar from 1369 to 1539. It is famous for below pagodas.
Shwemawdaw Pagoda, was originally built around 10th Century C.E. It was being destroyed many times by earthquake. The original version of the pagoda was approximately 70 feet tall and the current stupa, as of its most recent rebuilding, stands at 375 feet, making it the tallest in Myanmar and taller than Shwedagon pagoda in Yangon (322 feet) which is usually credited as the tallest pagoda in Myanmar .
Shwethalyaung reclining Buddha Image, originally built in 994 AD by King Migadepa, is the master pieced of Myanmar Stucco. It is 55 meters long and 16 meters high, and the second largest Buddha in teh world.
"Kyaikpun" is the home to the four Buddha Images seated back to back to four directions. This 27 meter statue said to be depicting the four Buddhas namely Kakusandha, Konagamana, Kassapa, and Gautama. It was built by King Mingaippa of Bago in 7th Century AD and renovated by the King Dhammazedi in 15th Century AD.
Kyaikhtiyo and Bago Images