Golden Triangle of Myanmar
2 night 3 day trekking, tribal and eco tour in Keng Tung (Kyaing Tong) & environ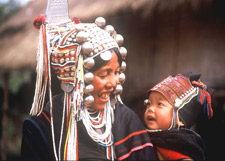 Day:1
Yangon/ Tachiliek – Keng Tung (Kyaing Tong) – Wan Pauk Village
Fly to Kyaing Tong either from Yangon or Heho. Arrive Kyaing Tong airport in the afternoon and transfer to Hotel. After check in at the hotel, visit Wan-Pauk, the village of the red clothed Palaung with silver and lacquered ware bands. Overnight at Kyaing Tong.
Day:2
Keng Tung (Kyaing Tong) – Pin Tauk Village Trek
Breakfast at the hotel. We will visit the "Ox and Bull" market where different tribes around Keng Tung are gathering to trade oxen and bulls. Drive north of Kyaing Tong to the start point of our trek to villages of Akha and Ann tribes in Pin Tauk village-tract. Packed lunch will be served at one of the village houses. Interact, chat and learn the ways of local life. We will arrive back in Keng Tung around late afternoon. Overnight at Keng Tung.
Day:3
Hill tribe tours around Keng Tung – Yangon/ Tachileik
Breakfast at the hotel. Check out. Explore Dhat Zoam Doi Ancient pagoda which means world peace pagoda in Shan language, Wan Sai Village of Akhe tribe (different from Akha tribe), Ho Lung Village of Ann tribe, Naingngan Aye pagoda and ancient Buddha images. Transfer to the airport for the flight back to Yangon or onward journey towards Tachileik/ Mae Sai Thai border if you are departing Myanmar after this tour.
Contact us if you want to tailor made this tour, for instance, if you are arriving at Keng Tung from Tachileik/ Mae Sai Thai border before the tour, if your onward journey is to Tachileik/ Mae Sai border, if you require assistance with booking for accommodations and Myanmar domestic flights or other pre and post tour travel extras.
Prices (US$) per person based on group size
Tours
1 Guest
2 Guests
3 – 4 Guests
5 – 7 Guests
8 – 10 Guests
Golden Triangle of Myanmar)
Contact us for a quote and your tailor made requirments. Please provide us your travel date, group size and as much information as you can to give you a precise quote.
Services include:
Accommodation
Ground transportation by Jeep or Pick-up truck
Sightseeing tour with entry fees at the destination Royalty Fees
Services of English Speaking Guide throughout the trip
Services exclude:
Drinks & Beverages
Personal expenses & gratitude, porter charges
Travel insurance
Domestic flights, International flights and airport taxes
Meals arrangement for all lunches & dinner during the trip
Seasonal Supplements
Tipping for a job well done
Any other not mentioned in the service inclusion
Keng Tung (Kyaing Tong)
Keng Tung is the capital of Eastern Shan State and former capital of Keng Tung State, is located in the famous Golden Triangle Region where Myanmar, Thai and Laos territories meet. It lies in the valley between the high misty mountains of the Shan Plateau bordered by the Mekong and the Salween (Thanlwin in Myanmar) Rivers. From 1243 A.D to the last Shan Saopha (the Chieftain), Burmese people pronounced as Sawbwa, 45 Shan Sao Phas reigned the Keng Tung State. Keng Tung means "Walled City of Tung", the original city walls and gates can still be seen today. Wat Zom Khun and Wat In wooden monasteries built in Shan architectural style, claimed to be close to those of Laotian and Thai temples, are one of the highlights. Traditional Shan arts workshop could be seen at U Mu Ling Ta's lacquer ware shop.
There are regular flights between Keng Tung and Heho, Mandalay or Yangon. After crossing Thai Myanmar border from Mae Sai into Tachileik, travellers can get to Keng Tung on an approximately 3 hours car journey.
There are approximately 35 different ethnic groups settled in the area, including Gon Shan, Palaung, Ang, Loi, Akha, Lisu, Lishaw, Lahu, Wa and Lahu. Although these ethnic groups live in separate villages some distanced from each other without mingling freely, they live with harmony and peace. Each tribe has preserved their ancient customs and traditions as well as their unique and colourful costumes. Market in Keng Tung is a very important economic hub of the area, where all different ethnic groups and tribal people come to trade, buy and sell.
It is an ideal place for cultural exploration of hill tribes, birdwatching, mountain biking tours, trekking and eco tours.
Loimwe
Loimwe, 38 km to the east from Kyaing Tong, was the seat of the British District Commissioner during the colonial period. This 'hill station' features a number of old colonial buildings and a century-old Catholic church. The main attraction is the scenery on the ascent to Loimwe, as you pass through forests, terraced rice fields and past a lake. It is accessible from Keng Tung via car.
Mongla
Mongla is right on the border with Xishaungbanna in China but on the Myanmar side. China border can be reached from Kyaing Tong by road (2 ½ hours). Mong La is a flourishing town where the border trade, especially the tourist industry is booming. Tourist across the border pour in daily to do shopping, see the highly popular elephant circus and crocodile show or just to relax at a pleasant picnic site surrounded by emerald green mountains. It is accessible from Keng Tung via car.
Tachileik
Tachileik, also known as the gate way to Myanmar site of theGolden Triangle area, is a border town of Eastern Shan State in Myanmar. It is bordered to the north of Mae Sai, Thailand. Border trade in that area flourishes with the produce from Myanmar and Thailand as well as with the goods from China through Myanmar-China border to Thailand and goods from Thailand through Myanmar-Thai border to China.
Since the change of the immigration regulations in August 2013, Tachileik is one of the permitted border crossing frontiers with Thailand for both traders and tourists. Border crossing permission for limited number of days to spend in Tachileik/ Keng Tung regions only, can be applied at the border check point. However if travellers intend to proceed into main land Myanmar, they need to have a Myanmar Visa in their valid passport prior to their arrival at the border gate, see details in the information for Myanmar Border Crossings
Kengtung (Kyaing Tong) & Environs Images