(3nights 4days)
| | |
| --- | --- |
| Duration: | 3night 4day |
| Coverage: | Kawthaung – Zardet Kyee Kyun – Myin Khwar (Horse Shoes) Island – Kyet Mauk Island – McLeod Island – Barwell Island – Kawthaung |
| Accommodation: | onboard a luxury yacht |
| Meal: | Full board meal, water and soft drink on board as per itinerary |
| Best time to go: | October to April |
| Getting to the yacht: | Kawthaung (in Myanmar), transfers can also be arrange for the arrival and departure in Ranong in Thailand. |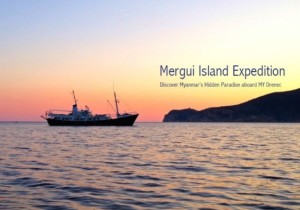 Download the cruise brochure
Discover the prestine and untouched nature of Mergui Archipelago in unparalleled luxury aboard expedition!
Be one of the first to explore an untouched world!
Think white beaches lined with palm trees and dense jungle. Think swimming in azure water amongst colourful reef fish, spotting corals, and collecting seashells. Now, picture eagles circling above, gibbons and monitor lizards eyeing you from the thickets, while a sundowner is being mixed for you on board the yacht. And best of all: you have this entire experience to yourself. You can sail for days on end and meet not a soul but the odd fisherman
in a dugout canoe.
Visit Mokan, the nomadic Sea Gypsies
The traditional inhabitants of the Mergui Archipelago are the Moken, a people who live off, and on, the sea.
Sometimes called "sea-gypsies", this ethnic minority group leads a traditional, semi-nomadic lifestyle, dominated by diving for sea cucumbers, fishing and bartering.
A Paradise all for yourself!
Explore tropical forests, hiking through valleys and up hills, walk along kilometres of beach with the only foot prints those behind you, kayak through enchanted mangroves, swim, snorkel, and go fishing: you've
got it all. The Mergui Archipelago is teeming with wildlife.
Due to government neglect and the region's long isolation, its 800 plus islands have remained virtually untouched. They are composed of limestone and granite and vary in size from tiny to islands larger than Singapore.
Most of them (we have yet to find one that isn't) are covered in thick jungle growth, which drops into azure waters, interrupted only by beaches, rocky headlands, tidal rivers, and mangrove forests. Lampi, one the largest islands, is part national park and home to some of the planet's oldest mangrove forests.
Barefoot Luxury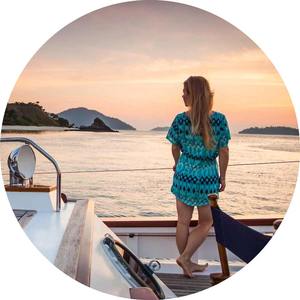 Cruise in style on a classic sailing yacht. Immerse yourself in a world of serenity and natural beauty that few people have ever visited.
Paradise Beaches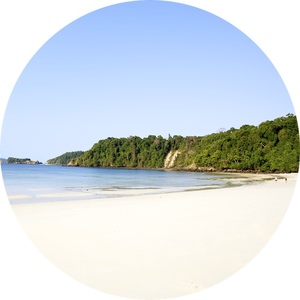 White sand, emerald jungle and not a soul in sight. You could spend weeks discovering new beaches every day. Which one's your favourite?
Discover and Explore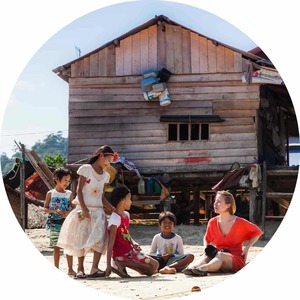 Travel back to the age of discovery. Sail amongst hundreds of jungle-covered islands. Meet the Moken sea nomads.
On board spa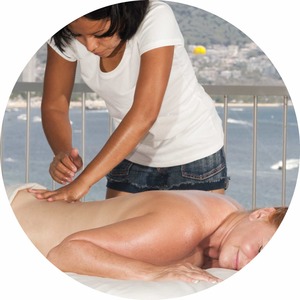 You lie in the shade, gliding across the sea. A personal massage therapist ensures your complete relaxation. If you like the idea, just let us know!
Amazing Food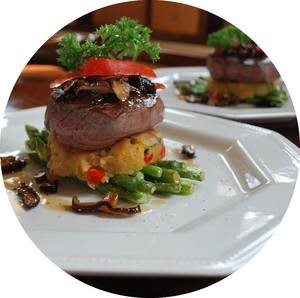 Get spoilt with three multi-course meals a day by your dedicated chef. We specialise in Thai cuisine but do let us know your preferences!
Underwater Encounters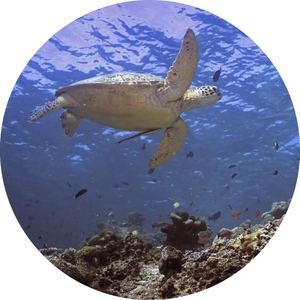 Swim and snorkel to your heart's content – you are surrounded by your private pool. Or book a private dive charter to explore the best underwater spots.
MY Drenec
Explore in style
Drenec was built in The Netherlands as a working boat designed to spend long weeks on the open seas. In 1986, she underwent a major overhaul and was reborn as a high-class expedition vessel. Drenec spent the following years on expeditions to the Arctic, the Indian Ocean, Central American waters and the Mediterranean. In 2012, she was completely refitted and upgraded in Malta with the interior designed by Sophie Bouakel-Kastelein.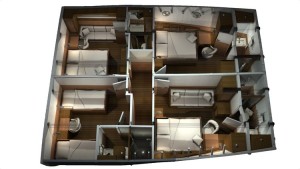 Cabins & Quarters
Drenec has five spacious guest cabins, four with double beds and one with a twin bed. All cabins have ensuite bathrooms equipped with heated towel holders and the large owner's suite additionally features a bathtub.
With designated workspaces and sofas, the cabins feel like comfortable hotel rooms, designed with great love for detail.
All cabins are fully air-conditioned and have flatscreen TV sets. Guests have access to the large digital movie library through the yacht's on-board media system.
Drenec has all the luxury comfort you can expect from a yacht of her size.
Decks: main, upper and sun deck all covered with teak, with teak-varnished handrails Cabins: 1 owner's suite, 4
staterooms, each with individual bathrooms, air-con, etc.
Activities: 2 canoes; water skiing, snorkelling, diving, stand-up paddle board Entertainment: library, movie library, on-board spa service Communication: Satellite phone, satellite internet, HF and VHF radio.
What's included?
All on-board meals, all nonalcoholic drinks, all activities as per itinerary, fuel, etc.
What is not included?
Visa fees (~US$40 per person, subject to changes), transfers to and from the yachts (see under price and dates), Mergui Archipelago zone fees US$250 per person.
Do I need to know how to sail?
No. Our experienced crew can do all the sailing for you while you relax. If you like, our crew can involve you and teach you sailing basics.
Can I sail myself?
Absolutely. You can get as involved as you like. From navigating to setting sails and steering the boat – you or your entire group can crew the ship. If you have enough sailing experience, you can even be the skipper.
How do I get there?
We can arrange to pick you up anywhere in the area – it's up to you. We recommend meeting you on Phuket Island in Thailand, which has an international airport and is very easy to get to, or in Kawthaung in Myanmar's south, just across the border from Thailand and a 5-hour car/bus ride from Phuket. Click here for more information.
Will I need a visa for Myanmar?
Yes. Most travellers will get a visa-on-arrival in Myanmar and we will take care of the procedure when you enter the country while you relax or explore. It takes no time at all. Please ensure that your passport is valid for at least six months beyond the end of your cruise. Click here for more information.
Is it safe to travel in Myanmar's Mergui Archipelago?
Yes, it is!
There are no violent conflicts in our sailing area, nor are there any pirates.
The archipelago is not home to crocodiles and, unless you swim around with cutlets tied to your hips, you are very unlikely to attract the attention of sharks. In fact, the number of sharks in the area has unfortunately dwindled due to shark fishing.
There is a mid-level malaria risk in southern Myanmar and you should take precautions by using mosquito-repellent and wearing long sleeves and trousers if onshore at night (which you are unlikely to be much).
All guests should get a suitable travel insurance before joining our cruises.
Is it ethically OK to travel to Myanmar?
We think so.
Until a couple of years ago, Myanmar was shunned by most international travellers. Visiting the country was seen as endorsement of the then military dictatorship, a view supported by Aung San Suu Kyi, the pro-democracy leader. Since then, things have fundamentally changed in Myanmar and Suu Kyi has been released from house arrest. She and her party now embrace individual and ethical tourism by travellers whose money does not go straight into the pockets of the generals. We are here to support just that.
How do I book?
Easy. Just send us an email stating your preferred cruise dates, number of guests and preferred cabin. We will be in touch to confirm or answer your questions.
Also do let us know if you preferred to charter the whole yacht for a private cruise.
What about money, cash and the local currency?
The local currency is the Myanmar Kyat (MMK) with an exchange rate of 1 USD to about 1,000 MMK. Do bring cash as the newly installed ATMs in Kawthaung may not function and as credit cards are not always accepted. For any purchases in the region, you can also use Thai Bhat – the change you will receive will most likely be in Kyat.
What else should I bring?
You don't need much. Bring your bathers, sunscreen, a hat, sunglasses, your camera and you're pretty much set! It's best to also bring mosquito repellent and you may want to consider bringing anti-malarial tablets. Do remember to get a travel insurance before joining our cruise. On board, you won't need shoes but you can bring flip-flops or reef shoes for beach outings if you want.
It would be great if you could bring soft luggage instead of a hard-case suitcase so that it can be stored away more easily after unpacking.
We provide full lodging, including bedding, towels, all meals, water and soft drinks. We also provide fishing and snorkelling equipment and first-aid, if necessary.
What's the best season to go?
The best time for sailing in the Mergui Archipelago is between November and end of April. The rainy season starts in May and ends in late October.
What will the water temperature be like?
Beautiful, during the day time 26-29°C or 79-84°F! The water temperature will be about 26-29°C.
How many other people will be on the yacht?
You can join our cabin charter cruises with 2 to 8 guests on Meta IV or up to 12 guests on Raja Laut. If you charter the yacht for a private cruise, it depends on you.
Is there on-board power, fresh water and internet?
Every cabin has power points (plus fans and air-cons). There is fresh water for showering and in the kitchen. Internet is not available on-board.
Will I have to share a bathroom?
Every cabin has its own bathroom and each comes with a shower, sink and toilet.
What kind of food do you serve?
Our chefs specialise in Asian cuisine but also serve Western dishes. Six weeks prior to departure we ask all our guests about their preferences.
Brief Itinerary
Day – 1: Set sail from Kawthaung
Day – 2: Zardet Kyee Kyun – Myin Khwar (Horse Shoes) Island
Day – 3: Kyet Mauk Island – McLeod Island
Day – 4: Barwell Island – Kawthaung
Detail Itinerary
Day – 1: Set sail from Kawthaung
Day – 2: Zardet Kyee Kyun – Myin Khwar (Horse Shoes) Island
Day – 3: Kyet Mauk Island – McLeod Island
Day – 4: Barwell Island – Kawthaung
Detail Itinerary
Day – 1: Set sail from Kawthaung
Noon.  After the welcome aboard your yacht will set sail to the south bay of Zardet Kyee Kyun, light lunch on board while sailing. Swimming or snorkeling in the bay if the tide allows it, enjoy a sunset cocktail and a first dinner on board. Overnight in the south Bay of Zardet Kyee Kyun.
Day – 2: Zardet Kyee Kyun – Myin Khwar (Horse Shoes) Island
Breakfast on board; after a refreshing swim we start our way to Myin Khwar Island (also know as "Horse shoes island") for a nice swim and a quick walk on this paradise beach. After we set sail toward Kyet Mauk island famous for its pristine turquoise lagoon where you will enjoy some snorkeling time (the schedule between these 2 visit can be reversed according to tide time and best snorkeling time). Lunch on board and slowly sail towards north to St Andrew Group where the yacht will anchor around McLeod Island. Dinner & overnight on board.
Day – 3: Kyet Mauk Island – McLeod Island
After the breakfast on board, transfer with the dinghy to McLeod Island for a nice hiking and birdwatching morning. Lunch on board and sail back East to Barwell Island. Bonfire and sunset cocktail on the beach before getting back on board to enjoy the special "Captain's diner".
Day 4: Barwell Island – Kawthaung
Last swim & final passage towards Kawthaung. Casual Brunch on board before we reach the pier and say goodbye to the Mergui around noon. *Sample itinerary – can be modified by the captain according to the weather conditions.
Contact us for special offers, tailor made requirements, accommodation options, pre and post sailing travel services, extensions, transfer to and from boat for arrival and departure in Kawthaung (Myanmar) or Ranong (Thailand), and zone specific on-arrival-visa that is valid for travel only in Kawthaung and Mergui Archipelago area.
Departure Dates for 2019/ 2020
07-10 December 2019
14-17 December 2019
No Departure during 21-Dec-2019 to 10-Jan-2020
11-14 January 2020
18-21 January 2020
25-28 January 2020
01-04 February 2020
08-11 February 2020
15-18 February 2020
22-25 February 2020
29 February – 03 March 2020
07 – 10 March 2020
14 – 17 March 2020
21 – 24 March 2020
28 – 31 March 2020
04 – 07 April 2020
11 – 14 April 2020
18 – 21 April 2020
25 – 28 April 2020
Join-in Cabin Charter Rates for 2019/ 2020:
Double or Twin (based on 2 persons sharing): USD 1600 per person
Double or Twin (Single occupancy): USD1950 per person
Owner's Suite (based on 2 persons sharing): USD 1750 per person
Owner's Suite (single occupancy): USD 2100
Triple State Room (Meta IV) per Cabin for 3 PAX: USD 4995
Triple State Room (Meta IV) per Cabin for single occupancy: USD 4000
NOTE:
Double/ Twin Cabin occupancy: 2 Adults or 1 adult and 1 child
Triple Cabin occupancy: 2 Adult and 1 Child or 1 Adult and 2 children
Vessel: Meta IV, Y Not or other comparable vessel(s)
Clients should have a valid passport (at least 6 months validity by the end of their trip in Myanmar) and a valid Myanmar Visa (either a valid Myanmar eVisa or Myanmar Visa Stamp on their passport)
Contact us for tailor-made itinerary, privately chartered yachts, pre and post sailing travel arrangements, transports to and from yachts from either Kawthaung (Myanmar) or Ranong (Thailand), domestic flight booking, extensions of your trip within Myanmar and other travel requirements within Myanmar.
Service includes:
On-board accommodation per your choice
Full board meals, water and non-alcoholic beverages on board
Fuel, electricity
Use of dinghy boat, sea kayak, snorkeling equipment, fishing equipment, stand up paddle board and guided activities on offer
Services of crew during the cruise
Towels, bathroom amenities
Vessel Insurance
Airport shared transfers – Kawthaung or Rangon Airports on the day of arrival and departure only
Service excludes:
Visa, Immigration and other Government Fees
Mergui Archipelago zone entry fees (approximately USD310 per person subject to changes and payable to authorities directly)
Domestic airfare (we can arrange flights to and from Kawthaung)
Travel Insurance, Health Insurance and other personal insurances
Alcoholic beverages
Other personal expenses such as laundry, alcoholic beverages, gratitude to guides/ porters/ crew
Any service items not mentioned in service inclusion above
Domestic Flights
Current season air fares between Yangon and Kawthaung is US$198 per person each way and subject to changes by airlines for the following seasons. We can arrange your flights on request.
Pre and post sailing travel services
Hotels, airport transfers and other excursions before or after your arrival in Putao for our Myanmar Himalaya Tours. We can arrange these services on request.
Travel Insurance
It is client's responsibility to ensure that they take a suitable travel insurance that covers for the trips and activities involved, before joining our tours.