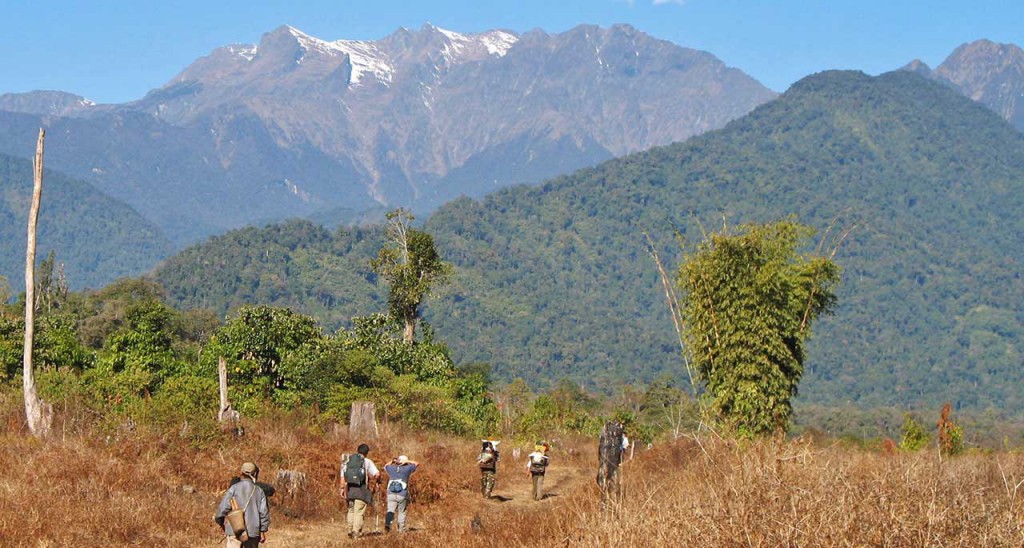 Putao Valley Village Trekking Putao Valley Village Trekking
Putao Valley Village Trekking Putao Valley Village Trekking
Putao Valley Village Trekking Putao Valley Village Trekking
sdf
Day-1: Putao – Hpangkhing Village
Arrival in Putao. Our guide will meet you at the Airport and transfer you by car to Wang Khaing Village in the north west direction from Putao. You will pass through some villages inhabited by Lisu and Rwang ethinic groups, stops could be requested for taking photographs. Briefing and preparation for the trek tomorrow before dinner. Overnight at Wang Khaing Village. (D)
Day-2: Wang Khaing Village to Longpondam Village
After breakfast, trek towards north east direction. Walk through the secondary forest vegetation and cross many plains and proceed further north. Lunch en-route. Proceed towards north to Longpondam Village. After the plains, snow capped mountains are now visible. After passing a few Lisu Villages you will arrive at Longpondam Village (the last village in the region). If you arrive early, you can trek 2 miles further to Namyin River and Malikha confluence and back to Longpondam. Overnight at Longpondam Village. (B, L, D)
Day-3: Longpondam Village to Namshe Kaw Village
After breakfast, trek along the Malikha River bank and cross the long, wide stony shore to the side. Then the trail turns to the thatched plain before proceeding towards Htunghtu, a Rawang Village. The Village produces a variety of seasonal citrus fruits. Lunch at Hunghtu. After luch cross Namshay River and proceed towards Namshay Kaw, a big Lisu Village. If you are lucky, you might catch local having an evening bon-fire and some traditional dances (Azulam Rawaug dance in Unison and Che-nguche Lisu dance) where you can join in. Overnight in Namshe Kaw Village. (B, L, D).
Day-4: Namshe Kaw – Putao
After breakfast, trek back from Namshay Kaw to Putao via Pammati, Mudung and Putaung (an old Shan Village). At some evenings, it is possible to arrange folklore story tale telling by a fire in a local house with local villagers, and also knowledge exchange with them. Oxcart ride can also be arranged if you wishes. Transfer to a guest house in Putao. Overnight in Putao. (B, L, D).
Day-5: Putao Departure
Visit to a colourful morning market in Putao busy with market goers of many tribes of Northern Myanmar. Enjoy the atmosphere of the market and breakfast. There you can try typical breakfast in Myanmar including Shan noodle, other noodle as well as typical tea shop savoury of Myanmar, such as chick pea prata, samosa and Monhingha. Free time at your own leisure after the breakfast. Transfer to airport. (B, L)
sdf